HARRY SUPER DOG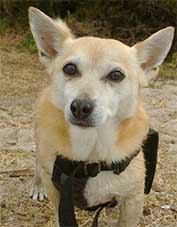 Well if you had seen Harry when we first started with Bruce at Dog Walkers Melbourne you would have seen an over weight aggressive dog who barked at every dog that passes, now we see a fit and healthy dog who can now be let off the lead with other dogs, absolutely amazing transformation in 6 months.
My 12 year old dog acts runs and jumps like a 2 year old. We have nearly moved him off tin dog food to nutritious dog bites and fresh meat on the recommendation from Bruce. Bruce supplies the dog bites and treats. Well done Bruce you are highly recommended keep up the good work.
David & Pat S., Williamstown (HARRY)
FINN
'Bruce looked after our golden retriever and cats for 5 days and we couldn't have been happier with his service. We got emails with attached pictures after every visit and posts on his Facebook Page with pictures and updates of all the puppies on their walks.
It was very comforting to see what our animals had been up to and how happy they looked. We will definitely be using him again and have no hesitation in recommending him to others.'

Leanne & Susan, Altona (FINN)

Bilbo & Daisy
We have just returned back from a 10 day vacation during which time we enlisted Bruce to come past and walk and feed our two dogs. The morning walk with the 'pack' was a fantastic opportunity for our one year old Cavoodle Daisy to socialise with other dogs and burn off some excess energy, while our ten year old pug Bilbo was happy to join in the fun. The afternoon stroll around the block before dinner gave the dogs a great end to their day.
We were able to enjoy our holiday so much more knowing that our dogs were getting out and about and well taken care of. This was reinforced with the daily photos of our dogs romping around with the pack. Since our return, Bruce has been a great source of advice for how to deal with Daisy's excess energy and maintain her ability to socialise with other dogs. We would not hesitate to enlist Bruce's services again or recommend him to family and friends
.

Hayley & Adam, Seaholme ( Bilbo & Daisy)
FIDDY
"As a lot of us are, I might be a little over protective when it come to my puppy. I have a 1 year old Cavoodle and spend too much time at work. I found dog walkers Melbourne online and Bruce came to see me. He made me feel completely confident in the walking and socialization programme.
I started with my puppy on the leash and was abetment that I would always have him walked on the leash. Through consistent reporting and communication Bruce gave me the confidence to have him walked off the leash and with the pack. This transformed my Puppy and he became so much happier and I became a less worried puppy parent.
I would sincerely recommend this service to anyone. Completely safe and professional at all times. A massive thank you Bruce!
Chris S. - Newport (FIDDY)
Cookie & Bentley
"Wanted to say thanks to Bruce for looking after our 2 older dogs while we went away for a long weekend. Normally we take them with us but on this trip it was not an option. Having recently moved to Melbourne from Sydney we were reluctant to put the dogs in a kennel, even though we did look at some. The ability for the dogs to stay in their own home, be fed and walked each day was great. Add to that the comfort of receiving daily updates meant that we could relax while away.
I would happily recommend the service Bruce provides as an option to dog kennels."

Gareth & Lani I,. Spotswood (Cookie & Bentley)