Professional Dog Walking & Pet Sitting in Inner West & North East Melbourne
Dog Walkers Melbourne exists to provide Professional Dog walking and dog/ cat sitting services in Melbourne. This now includes 24 hour inhouse care - see our Pet Services page for full details
As many dog problems are related to inactivity, boredom and lack of socialisation, we provide the perfect dog walker solution to you while you are at work, on holiday, or just can not manage daily walks throughout the week.
We offer a professional, reliable, fun service, always putting your dog's needs first. We are passionate about providing your canine the exercise regime they need.
To see if we are what you and your pet are after, contact us by email for more information or have a browse of the rest of the site then contact us on 0402 262 875 for a free consultation in your home.

If you would like to see what a 'typical' Dog Walkers Melbourne dog walk looks like, I have included a short video on our ABOUT US page.
COMPARE the Benefits of Dog Walkers Melbourne
| | | |
| --- | --- | --- |
| √ | Reliable & professional | We ALWAYS put your dog/ cat, and you first! |
| √ | Detailed Report & images | See how much fun your dog had on its day out! |
| √ | Flexible | Make a request |
| √ | Positive reinforcement | Your Dog Health is more important than the schedule. |
| √ | Public liability insurance | ($10M) - peace of mind! |
| √ | Clean Police check | Our walkers have Clean certificates |
| √ | Taking time | We genuinely love dogs & will stop to play with your dog and make its day. |
| √ | Dog Harness security | Your dog is secured in our vehicles, they don't just 'jump' in |
| √ | Real Meat Treats | Your dog is fed beef liver dog treats, not left overs found in the fridge. |
| √ | Dog & Cat Testimonials. | See the difference we make Testimonials 1, Testimonials 2 |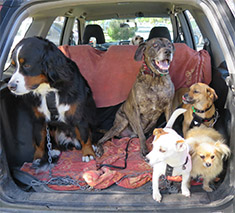 Dog Walkers Locations Serviced
We currently mostly service the inner west, West of Melbourne and the Inner North East, but are always on the look-out for great Dog walkers/ Pet Sitters in other Melbourne Locations.
Currently these are some of the specifically we specialise in the inner western suburbs of:
Inner West Melbourne Dog walking Pet Sitting Locations:
Williamstown (3016), Newport / Spotswood / Altona North/ South Kingsville (3015), Altona (3018), & inner western Melbourne suburbs.
Nina services the inner West suburbs of: Yarraville (3013), Seddon (3011), Brooklyn (3012), Footscray (3011), West Footscray/ Kingsville/ Maidstone (3012), Braybrook (3019), Maribyrnong / Ascot Vale (3032), Kensington (3031).


MID West Melbourne Dog walking Pet Sitting Locations
Williams Landing (3027), Seabrook (3028), Truganina (3029), Hoppers Crossing (3029), Point Cook (3030), Sanctuary Lakes (3030), Werribee (3030).

Dog Walking & Pet sitting North East suburbs are:
Kew (3101) , Kew East (3102), Alphington (3078) Ivanhoe & Ivanhoe East (3079) Fitzroy (3065), Fitzroy North (3068), Carlton (3053), Cremorne (3121), Toorak (3142), Hawthorn (3122), Hawthorn East (3123), Camberwell (3124), Canterbury (3126), Surrey Hills & Mont Albert(3127), Box Hill (3128) Balwyn (3103), Balwyn North (3104)

If you live in or nearby any of these suburbs and wonder if we can help you, please contact us!
24 Hour and doggy day care pet sitting
We also provide 24 hour 'in house' dog sitting care via Donna, Sylvia and Lachlan. If you are after DAY only care in the pet sitters home, we also provide that service !

These professional Dog Walkers Melbourne Pet sitters also walk your dog! They will provide expert care and dog walks near their homes (on lead) twice per day! Your dog will get to rest in enclosed yards and sleep inside at night.

If your dog frets or suffers separation anxiety or night barking, our professional care in our pet sitters homes are far better option than kennels or so called dog hotels. For full details of this service please see our 24 hour dog care page: 24 hour dog care and pet sitting

Click here to find out the BENEFITS OF PROFESSIONAL DOG WALKING. Or see what Cesar Millan says about Dog walking


Healthy Dog Treat Nutrition
For good health, besides dog walking, your dog also needs a healthy diet. This is why I have taken on selling online affordable PREMIUM healthy dog treats , Australia wide.

If you are interested in buying meat based dog treats from a local dog treat manufacturer, please check out my Dog Treat page All the best in dog, cat & pet health!