Lovely Lola the Prague ratter dog retrieving a massive tennis ball in Spotswood quarantine VIDEO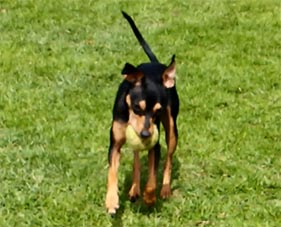 Ok, the tennis ball may not be massive, but compared to Lola the Prague ratter dog, it is.
Lola was extremely timid and anxious when I first met her in quarantine. This retrieving video was taken over several sessions. In fact she was so distracted that I could only get her to retrieve a few times in a row, so in the video you will really see the cream of the cream of her retrieving.
A retriever was of course breed and trained to retrieve in its DNA for many hundreds of years. That is why it is so interesting when you see a ratter so interested in bringing its simulated prey (a tennis ball) back to the human.
What you don't see a lot of in this video is the little dance steps that Lola does in her massively heightened excitement waiting for the ball to be thrown. She runs back and forwards and side to side faster than the eye can see in anticipation of the ball being thrown.
Because of her small mass and high twitch fibre muscles (required to match the ground speed and agility of small rodents) she has freakishly high speed movements. Almost like a ground based humming bird.
This is the first Prague ratter that I have ever encountered and it was a joy to see her enjoy herself so much in accomplishing the working task of bringing the ball back. And indeed in doing this task, beside burning off energy, she was able to also settle her nerves so that she could do more relaxed running and sniffing in the yard.
After all the retrieving her next favourite thing was to run up my leg and nestle in my arms or on my shoulder. While seemingly cute (except for the very sharp claws) she was actually just gaining a better viewing position to see what vermin were about.
Funny how us humans usually like to put all dog behaviour in terms of humans and what the dog does for us, when in reality, we are mostly considered by them, to be just another member of their pack.
Article by Bruce Dwyer. Like this article? Then please use a LINK reference to www.dogwalkersmelbourne.com.au
Join our FREE HEALTHY DOG TREATS Newsletter for Discount COUPONS. (Register at healthydogtreats.com.au)
For Daily dog pictures and healthy dog treat info, Join us on: FaceBook/HealthyDogTreatsShop