The smartest (most intelligent) dogs on Earth list, by Working Group | Ancient Dog Breed Age
Dog Intelligence Breakthrough RESEARCH
Everyone wants to think that their dog is smart, particularly if they love their dog. It is true that just like with humans you are going to get the full range of smartness in dogs, but did you know which breeds are regularly smarter than others, and how that intelligence is measured?
I have found an interesting recent article where a lot of breeds were judged against one another and their intelligence ranking provided for comparison with many other popular breeds.
Stanley Coren from University of British Columbian Vancouver (1994 research) actually ranked over 100 dogs based on professional obedience trainer judges answers about how easy specific breeds were to train, or their obedience intelligence.
In his 2006 publication he described three types of intelligence
1 Instinctive dog intelligence= a dog's ability to perform the tasks it was evolved by humans to do: herding, pointing, fetching, guarding, being a pet
2Adaptive dog intelligence = a dog's ability to solve problems on its own.
3 Working and obedience dog intelligence = to a dog's ability to learn from humans.
And the ranking used universally in articles such as this concentrates on the third option the obedience intelligence - And of course everyone loves an obedient dog, so that should be the end of the discussion. While it is obvious that different breeds would excel at different types of intelligence for trial work and being a domestic dog (family pet) the third type of intelligence is one that most people with pets would be interested in.
The resulting study shows 131 breeds out of the over 400 AKC recognised breeds and there were 52 ties in this ranking giving a scale of 1 most intelligent to 79 th rank (least easy to train).
The source of dog trainability intelligence
So I got to thinking about these rankings and how easily some people will dismiss them (because they believe their dogs should be much higher or lower on the list - and of course this doesn't account for how much training or socialising individual dogs are given that are trained primarily at home.
But all things being relatively equal, I wondered what the source of the intelligence or trainability would be, and I came to a wolf evolution concept correlation. That is, almost every dog on the list was bred and evolved for a purpose that man decided. To herd, to hunt, to pull large things to guard etc. And all of these trades require a high degree of skill, the equivalent of street smarts at least.
So I wondered why border collies, Poodles and German shepherds regularly come out on top of intelligence lists, while the cellar dwellers always seem to be the afghan hound, Basenji and Chow Chow?
OBEDIENCE INTELLIGENCE By Classification group list, Top 10, bottom 10
| | | |
| --- | --- | --- |
| DOG GROUP CLASSIFICATION | TOP TEN | BOTTOM TEN |
| HERDING | 3 | |
| WORKING | 3 | |
| SPORTING | 2 | |
| TOY | 1 | 2 |
| MISC | 1 | 1 |
| HUNTING | | 6 |
| GUARDING | | 1 |

This is only the top ten and bottom ten Obedience intelligence by Classification Group out of 131 dog breeds, but just at these outliers it becomes clear that six of the top intelligence dogs come from Herding and working backgrounds and two from Sporting (or gun group).

In stark contrast the Bottom ten obedience intelligence dogs have SIX from the hunting group and 1 from guarding. The only cross over is in toy and miscellaneous breeds which don't really have a definite Working task purpose.

It should be noted that the difference between Sporting (gun dogs) and Hunting dogs is clear. Sporting dogs typically can identify (point or set) the prey, and retrieve but typically do not stalk and Kill the prey as Hunting dogs are required to do.

You also be aware that this is only one of the smartness scales. While most of the top breeds perform very well on the other two scales (instinctive and adaptive) the bottom breed dogs excel in these types of intelligence and are more likely to be near the top of these other scales.


Hunting dog breeds and obedience intelligence
One major point to understand from the intelligence sale is that obedience intelligence ranked the top ten dogs on these two parameters:



*

Understanding of New Commands: Fewer than 5 repetitions.



*

Obey First Command: 95% of the time or better.

You will rarely meet hunter that will not stand by their dogs innate cunning and brilliant loyalty and persistence, as well as their highly organised training brain. While the hunting dogs in the bottom ten of the obedience dog intelligence list might take a while to get the command once they do, they are often the most obedient dog. That is they show trust and obedience in the most trying environmental conditions, fighting every instinct they have not to attack prey or retrieve or whatever their hunting speciality is (until given the command).

A lack of easy training, in the urban dog training world is often equated with stubbornness, but what if this was a trait bred into a dog for survival? What if you have a hunting dog that you want to be independent, make the tough decisions on the hunt and not refer back to the owner? One persons stubbornness is another owners independence, which a lot of these hunting dogs were bred to have. It is actually a positive trait, not a negative one.

Ancient breed dogs and Obedience Intelligence

And this is where the intelligence topic really gets murky.

Domestic dogs were bred from wolves only 20,000 years or so ago according to the latest science papers, and wolves are the alpha predator in many of their territories. They are at the Apex of the food chain because they are brilliant hunters coordinating the pack, and 'on the fly' in dark conditions.

But wolves are typically very hard to train and domesticate. That is why the domestication of the wolf and the evolution of the domestic dog is such a miracle.

In 2004 a paper was written (ref 2) that postulated that there existed a special group of dogs called

Ancient dog breeds

. The scientist tested 85 dog breeds and ranked them on how close their DNA was to the wolf.

Ancient DOG BREEDS Graph. Dogs on the left are most wolf like (similar DNA) getting less as the graph goes to the right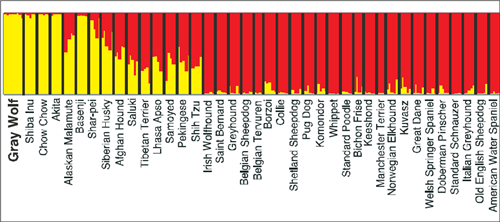 The science is complex but they simplify it by providing graphs of how each breed rare on four DNA components. Those domestic dog breeds with an almost complete yellow bar next to them have almost the same DNA as the Gray wolf. This also means that these breeds are the most 'pure' and oldest domestic dog breeds often going back thousands of years. You should be aware that the vast majority of companion dog breeds we see today rarely are older than a few hundred years.

The purpose of this Ancient dog breed research was speculative and to provide a base for further DNA dog research, but the implications were clear in that while many of the most ancient dog breeds were very intelligent (they had to be to survive man all these years) they also share many of the traits of the wolf (because of the remarkably close DNA).

It makes sense then that the most ancient breeds of dogs are also the most independent, and cunning in their hunt abilities (the primary purpose of the wolf).

So I thought it would be instructive to compare the Obedience tranining intelligence ranking with the Ancient Dog breed rankings. Is there a correlation? Note the Obedience Training ranking is out of 79 ranks (139 dogs in total some tied). "1" is the highest/ smartest ranking for Obedience training.


| | | | |
| --- | --- | --- | --- |
| Obedience Training Ranking | TOP TEN ANCIENT DOGS | Obedience Training Ranking | LEAST ANCIENT DOGS |
| NA | Shiba Inu (most ancient) | NA | Greater Swiss Mountain Dog (Least Ancient) |
| 76 | Chow Chow | 22 | Bernese Mountain Dog |
| 54 | Akita | 72 | Mastiff |
| 50 | Alaskan Malamute | 48 | Boxer |
| 78 | Basenji | 77 | Bulldog |
| 51 | Shar-pei | NA | Miniature Bull terrier |
| 45 | Siberian Husky | 58 | French Bulldog |
| 79 | Afghan Hound | 3 | German Shepherd dog |
| 43 | Saluki | NA | Newfoundland |
| 62 | Tibetan Terrier | 69 | Bullmastiff |

INTELLIGENCE OF TOP TEN ANCIENT DOGS

From this list you will see that Three of the dog breeds that rank in the top ten ancient dog breeds (closest to the wolf) are also in the BOTTOM TEN for Obedience intelligence (ability to quickly learn training). These are Chow Chow, Besenji and Afgan Hound. Two are expert hunters while the Chow Chow is an expert guard dog - all the most primal dog functions of the dog groups.


INTELLIGENCE OF LEAST ANCIENT DOG BREEDS
Curiously the least like wolf DNA dog breeds mostly do not generally rank high on the obedience training intelligence scale. Their ranking numbers on average are similar to the Most like wolf dog breeds. The main exception is the German Shepherd dog that ranked 7th least like wolf or ancient dog and third on the obedience intelligence scale.



The most likely reason that the Least Wolf Like dogs are not super intelligent or poor trainability dogs is that the vast majority of dog breeds are only a few hundred years old, so their dna are all most likely to be similarly mixed and non wolf like.
DOG INTELLIGENCE CONCLUSIONS
If you are looking for a dog that is easily trainable then the obedience training list can help, but it does not tell you what the dogs preferences are (hunting, herding, guarding) or how much exercise you are going to have go give it to make it happy and healthy. You will also note that three of the top ten obedience intelligence dogs are the most feared dogs on the planet used for guard and attack duties: German Shepherd, Doberman pincher and Rottweiler. These are large powerful dogs that while easy to train are not suitable for every family environment - particularly if the owners are inexperienced dog people with little dog discipline skills.
IT is clear that Obedience training intelligence is only one third of the dog intelligence puzzle, and some of the poorest performing dogs make the greatest hunters and have the best instinctive and adaptability intelligence.
Three of the dogs that rank in the bottom ten of the Obedience intelligence rankings also rank in the top ten breeds closest to wolf DNA. This suggests they are extremely independent and most likely very loyal, but may have recall issues in local dog parks, and potential aggression issues if not socialised properly.
Article by Bruce Dwyer. Like this article? Then please use a LINK reference to www.dogwalkersmelbourne.com.au
Join our FREE HEALTHY DOG TREATS Newsletter for Discount COUPONS. ( Register at healthydogtreats.com.au )
For Daily dog pictures and healthy dog treat info, Join us on: www.facebook.com/HealthyDogTreatsShop
REF 1 Stanley Coren from University of British Columbian Vancouver (1994 research)
Ref 2 2004_parker_genetic-structure-of-the-purebred-domestic-dog
ref 3 http://petcaretips.net/list-dog-breeds.html
APPENDIX
DOG BREED INTELLIGENCE RANKING
| | |
| --- | --- |
| CLASS | Brightest Dogs |
| | Understanding of New Commands: Fewer than 5 repetitions. |
| | Obey First Command: 95% of the time or better.[18] |
| HERD | 1. Border Collie |
| MISC | 2. Poodle |
| HERDING | 3. German Shepherd |
| SPORTING | 4. Golden Retriever |
| WORKING | 5. Doberman Pinscher |
| HERDING | 6. Shetland Sheepdog |
| SPORTING | 7. Labrador Retriever |
| TOY | 8. Papillon |
| WORKING | 9. Rottweiler |
| WORKING | 10. Australian Cattle Dog |
| | Excellent Working Dogs[edit] |
| | Understanding of New Commands: 5 to 15 repetitions. |
| | Obey First Command: 85% of the time or better.[18] |
| HERDING | 11. Pembroke Welsh Corgi |
| TERRIER | 12. Miniature Schnauzer |
| SPORTING | 13. English Springer Spaniel |
| HERDING | 14. Belgian Shepherd Dog (Tervuren) |
| MISC | 15. Schipperke |
| HERDING | Belgian Sheepdog |
| HERDING | 16. Collie |
| MISC | Keeshond |
| BIRD DOG | 17. German Shorthaired Pointer |
| BIRD DOG | 18. Flat-Coated Retriever |
| SPORTING | English Cocker Spaniel |
| | Standard Schnauzer |
| | 19. Brittany |
| | 20. Cocker Spaniel |
| | 21. Weimaraner |
| | 22. Belgian Malinois |
| | Bernese Mountain Dog |
| | 23. Pomeranian |
| | 24. Irish Water Spaniel |
| | 25. Vizsla |
| | 26. Cardigan Welsh Corgi |
LEAST OBEDIENCE TRAINING DOG BREEDS
| | |
| --- | --- |
| CLASS | 62. Dandie Dinmont Terrier |
| | Petit Basset Griffon Vendéen |
| TERRIER | Tibetan Terrier |
| TOY | Japanese Chin |
| TERRIER | Lakeland Terrier |
| HERDING | 63. Old English Sheepdog |
| WORKING | 64. Great Pyrenees |
| TERRIER | 65. Scottish Terrier |
| WORKING | Saint Bernard |
| TERRIER | 66. Bull Terrier |
| TOY | 67. Chihuahua |
| MISC | 68. Lhasa Apso |
| WORKING | 69. Bullmastiff |
| | Lowest Degree of Working/Obedience Intelligence |
| TOY | 70. Shih Tzu |
| HUNTING | 71. Basset Hound |
| WORKING | 72. Mastiff |
| HUNTING | Beagle |
| TOY | 73. Pekingese |
| HUNTING | 74. Bloodhound |
| HUNTING | 75. Borzoi |
| GUARD | 76. Chow Chow |
| MISC | 77. Bulldog |
| HUNTING | 78. Basenji |
| HUNTING | 79. Afghan Hound |
ANCIENT DOG BREEDS INTELLIGENCE RANKING
| | |
| --- | --- |
| INTEL RANK | Ancient Dog Breeds |
| | |
| | LEAST WOLF LIKE DNA |
| | Greater Swiss Mountain Dog |
| 22 | Bernese Mountain Dog |
| 72 | Mastiff |
| 48 | Boxer |
| 77 | Bulldog |
| NA | Miniature Bull terrier |
| 58 | French Bulldog |
| 3 | German Shepherd dog |
| NA | Newfoundland |
| 69 | Bullmastiff |
| 9 | Rottweiller |
| * | Presa Canario |
| 7 | Labrador Retriever |
| 23 | Pomeranian |
| 40 | Soft Coated Wheaten Terrier |
| 18 | Flat Coated Retreiver |
| | Irish Terrier |
| 15 | Schipperke |
| 35 | Kerry Blue Terrier |
| 67 | Chihuahua |
| 42 | Australian Shepherd |
| * | Daschound |
| 52 | Rhodesian Ridgeback |
| 53 | Ibizan Hound |
| 37 | Clumber Spaniel |
| 40 | Bedlington Terrier |
| 1 | Border Collie |
| 17 | German Shorthaird Pointer |
| * | Portugese Water Dog |
| 35 | Cairn Terrier |
| 27 | Chesapeake Bay Retriever |
| * | American Hairless terrier |
| * | American Cocker Spaniel |
| 29 | Airedale Terrier |
| 74 | Bloodhound |
| 72 | Beagle |
| 4 | Golden Retriever |
| 37 | Pharoah Hound |
| 28 | Giant Schnauzer |
| 44 | Cavalier King Charles Spaniel |
| 71 | Basset Hound |
| 43 | Pointer |
| 47 | West Highland White Terrier |
| 53 | Irish Setter |
| 18 | English Cocker Spaniel |
| 37 | Australian Terrier |
| 12 | Minitature Schnauzer |
| 44 | American Water Spaniel |
| 63 | Old English Sheepdog |
| 60 | Italian Greyhound |
| 18 | Standard Schnauzer |
| 5 | Dobrman Pinscher |
| 31 | Welsh Springer Spaniel |
| 48 | Great Dane |
| * | Kurvasz |
| 36 | Norwegian Elkhound |
| 32 | Manchester Terrier |
| 16 | Keeshond |
| 45 | Bichon Frise |
| 2 | Standard Poodle |
| 51 | Whippet |
| * | Komondor |
| 57 | Pug Dog |
| 6 | Shetland Sheepdog |
| 16 | Collie |
| 75 | Borzoi |
| 14 | Belgian Tervuren (shepherd dog) |
| 15 | Belgian Sheepdog |
| 46 | Greyhound |
| 65 | Saint Bernhard |
| 41 | Irish Wolfhound |
| 70 | Shih Tzu |
| 73 | Pekinese |
| 33 | Samoyed |
| 69 | Lhasa Apso |
| 62 | Tibetan Terrier |
| 43 | Saluki |
| 79 | Afghan Hound |
| 45 | Siberian Husky |
| 51 | Shar-pei |
| 78 | Basenji |
| 50 | Alaskan Malamute |
| 54 | Akita |
| 76 | Chow Chow |
| * | Shiba Inu |
| | MOST WOLF LIKE DNA |